Latest posts from the Sound Collector blog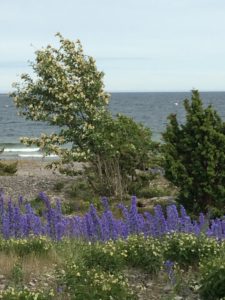 "If one were to be formal, one could say that I had found a home, a true home." — Ingmar Bergman about his first meeting with Fårö Bergman found his home on the island of Fårö and proceeded to build a dwelling there. Not only did he inhabit the house he built, but his films found their "location," their home, on the island. What does it mean to find a "true home" – not the home of one's birth but one found as an adult? How did rauks and stones, the sound of the wind through pines and the cries of seabirds create a feeling of home in Bergman's life as in his films?
Read More »
"Our relation to place is irrational. There are things that surpass reason therein. There always remains an unknown and invincible power (magnetism, magic, gravity,…) that ties us to a path, a dwelling, a city, a countryside, a hidden place in a residence, in a garden. ….we are secret characters in a grand and multi-century story that places are recounting." Idriss Aissa
Read More »
Translated and Edited by Deborah Kapchan
"This volume is an outstanding contribution to knowledge, to modern Moroccan poetry and in an extended sense, to modern Arabic poetry; to the societies and cultures within Morocco out of which these poems emerge and which they reflect or challenge; and to contemporary English and particularly the American poetic idiom."
Michael Sells, Emeritus Barrows Professor of the History and Literature of Islam
Gnawa heal those they believe to be possessed with music and trance. As a group of ritual musicians originally from sub-Saharan Africa, the Gnawa have been living in Morocco for centuries and have long participated in the world music market. In this first book in English on Gnawa music and its global reach, author Deborah Kapchan explores how these collaborations transfigure racial and musical identities on both sides of the Atlantic.
Gender on the Market
This book is the result of extensive ethnographic research on Moroccan women's expressive culture and the ways in which it both determines and responds to current transformations in gender roles. Beginning with women's emergence into what has been defined as the most paradigmatic of Moroccan male institutions—the marketplace—the book elucidates how gender and commodity relations are experienced and interpreted in women's aesthetic practices.
Theorizing Sound Writing
This volume contains an impressive lineup of scholars from anthropology, ethnomusicology, musicology, performance, and sound studies. More
Cultural Heritage in Transit
This volume examines the intangibilities of human rights in the realm of heritage production, focusing on the ephemeral culture of those who perform it as well as the ambiguities present in the idea of cultural property.
The Aesthetics of Proximity
Watch a presentation on the "auditory sublime" at Phenomenology in Ethnomusicology
Conference at Memorial University of Newfoundland in June 2018. In the presentation she describes the sublime both an aesthetic category that structures philosophical thinking as well as a structuring affect – something that co-creates human sociality, like mourning, anger, or effervescence